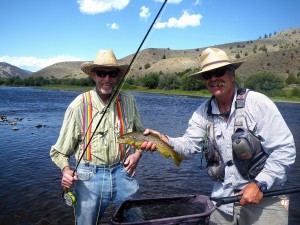 Jack Mauer and Dave Brandt in the Big Hole
The 2014 Guide Season is officially over having my last personal guide days the last week of October. Despite the slow fishing, the radiant fall colors and memories of fast fishing we had through out the year helped ease in the inevitable – winter coming on!
I want to say many words of thanks to all who fished with Wapiti Waters during this glorious season of good flows and good angling. I would also like to mention a couple of anglers who have passed on to the "Happy Fishing
Ground" namely E. Terrill Nobles (Terry Nobles) and Dave Brandt. These two fishermen were the reasons we love guiding. Their attitudes were upbeat whether the fishing was fast or slow and they genuinely loved the waterways and trout environment. Their desires to share this love will always be with us. We will forever miss yet forever remember them.
Another note: We also had the privilege of  fishing with Dave Brandt in Argentina– fantastic time and memories.
Dave Brandt and daughter KJ in 2009
Thank you,
Jack Mauer, Wapiti Waters Fly Fishing Montana, Outfitter #867
Terry Nobles in 2005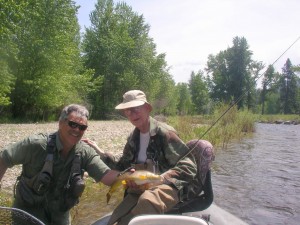 Jack Mauer and Terry Nobles in 2007